Paintball Guns
Military Simulation, BT Paintball, Tippmann, RAM4, Mars LT, Zeus G2, Miltec, War Sensor, Splatmatic, Auto- Ordnance, Paintball Pistols, Paintball Accessories, WWII Helmets, Paintballs
Airsoft Guns
WWII Airsoft Guns, Classic Army, KSC, Maruzen, Western Arms , Airsoft Minis, Spring Guns, Olympic Arms, Chinese AEG's
Pellet Guns
.177 & 22 Calibers & Accessories
Action figures
Soldiers Story, DID Figures Dragon, GI Joe, Bluebox Toys, Sideshow Toys, Marx Toys, In the Past Toys
Tactical Gear
Ghillie Suits & Camo, CQB Solutions, Mil-Force, Hydrastorm, Hellstorm, Holsters, Goggles, Wiley-X Eyeware, Leapers
Swords & Knives
Fantasy & Military reproduction swords, daggers & knives
Rifle Parts & Mounts, Zos Rifle Scopes, Gun Cases, Scope Rings, Spotting Scopes
---
OLYMPIC ARMS AIRSOFT RIFLES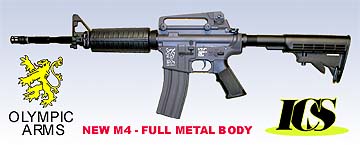 Olympic Arms licensed AEG full metal AR style Airsoft rifles. H&K style AEG full metal airsoft rifles. Over several generations of product development and constant improvement, AirSoft are now, back in the U.S. newer and better than ever. The highly advanced plastic polymer manufacturing in Asia has created this new generation of AirSoft with good safety features, excellent qualities in details and much improved durability for Sport play. A major manufacturer such as KWC is ISO 9001 certified, thus assuring the highest quality product.
Both Indoor and Outdoor sport games are being played all over the United States. AirSoft sporting games offer its participants a safe and well-regulated environment for their fantasy play. They can imitate their favorite action movie stars for the duration of the game & get a good work out at the same time. These types of games require teamwork, cooperation and the spirit of fair play. It has been integrated into many Paintball sport facilities and playing arenas across the country.
Adding to AirSoft's hobby collector and sport games market, AirSoft has created new uses in firearm safety, law enforcement training and movie & theatrical productions. Highly detailed designs simulating various firearms offer a very realistic, and at the same time, much safer applications. Many police officers/ departments and firearm safety instructors choose AirSoft over other options to obtain realistic training without the inherent danger. In this digital age, many movie studios utilize AirSoft in their movie production magic.
SD74 ERAU001

Armory USA SSR-56-2 AEG Fixed Stock Licensed & Trademarked. 325fps Metal body Hi-capacity magazine Battery and charger not included. Version 3 gearbox

$350
EROA 001


CAR-97 M4. Exclusive Worldwide License from Olympic Arms. All metal body, new splitcase gearbox design. Fixed stock. Reinforced M4 barrel and a 340 round Hi Cap Magazine!

$372
EROA 002


CAR-97 A2. Exclusive Worldwide License from Olympic Arms. All metal body, new splitcase gearbox design. 6 pt. collapsible stock. Reinforced M4 barrel and a 340 round Hi Cap Magazine!

$372
ER A001
Special Weapons, Inc. Trademarks. MMP5A4 Replica grade version 2, metal body, navy lower, NEW fixed stock. Upgraded AEG, high cap. Magazine. (200BB). Adjustable hop up. Battery and charger not included.
$300
ER A002
Special Weapons, Inc. Trademarks. MMP5A5 Replica grade version 2, metal body, navy lower, NEW collapsible stock. Upgraded AEG, high cap. Magazine. (200BB). Adjustable hop up. Battery and charger not included.
$300
ER A003
Special Weapons, Inc. Trademarks. MMP5SD5 Replica grade version 2, metal body, silenced version, navy lower, NEW fixed stock. Upgraded AEG, high cap. Magazine.(200BB). Adjustable hop up. Battery and charger not included.
$325
ER A004
Special Weapons, Inc. Trademarks. MMP5SD6 Replica grade version 2, metal body, silenced version, navy lower, NEW collapsible stock. Upgraded AEG, high cap. Magazine (200BB). Adjustable hop up. Battery and charger not included.
$325
ER ICS 13
Special Weapons, Inc. Trademarks. MMP5SD5 Replica grade version 2, metal body, silenced version, navy lower, NEW folding stock. Upgraded AEG, high cap. Magazine (200BB). Adjustable hop up. Battery and charger not included.
$350
ER ICS 14
Special Weapons, Inc. Trademarks. MMP5A4 Replica grade version 2, metal body, navy lower, NEW folding stock. Upgraded AEG, high cap. Magazine. (200BB). Adjustable hop up. Battery and charger not included.
$325
ER ICS 001T
Special Weapons, Inc. Trademarks. MMP5A4 Replica grade version 2, metal body, navy lower, Tactical RIS, grip, & sight mount. NEW fixed stock. Upgraded AEG, high cap. Magazine.(200BB). Adjustable hop up. Uses large battery. With battery and charger.
$390
ER ICS 002T
Special Weapons, Inc. Trademarks. MMP5A5 Replica grade version 2, metal body, navy lower, Tactical RIS, grip, & sight mount. NEW fixed stock. Upgraded AEG, high cap. Magazine.(200BB). Adjustable hop up. Uses large battery. With battery and charger.
$390
ER ICS 003T
Special Weapons, Inc. Trademarks. MMP5SD5 Replica grade version 2, metal body, navy lower, Tactical RIS, grip, & sight mount. NEW fixed stock. Upgraded AEG, high cap. Magazine.(200BB). Adjustable hop up. Uses large battery. With battery and charger.
$425
ER ICS 004T
Special Weapons, Inc. Trademarks. MMP5SD6 Replica grade version 2, metal body, silenced version, navy lower, Tactical RIS, grip, & sight mount. NEW collapsible stock. Upgraded AEG, high cap. Magazine.(200BB). Adjustable hop up. Uses large battery. With battery and charger.
$425
ER BAT-2
8.4V 1800MAh Rechargable Battery
$45
ER BAT-3
SD size 9.6V 600MAh Rechargable Battery
$30
ER CHARGER-L
Charger for larger size battery
$10
ER CHARGER-S
Charger for small size battery
$10
ER MP5-MAG
ICS MMP5 SERIES HIGH CAP. MAGAZINE (200 BB)
$40
ER A-MP-05
Metal MP5 Magazines Connecting Clip
$17
ER FastCharger
Fast Charger for battery
$50