Paintball Guns
Military Simulation, BT Paintball, Tippmann, RAM4, Mars LT, Zeus G2, Miltec, War Sensor, Splatmatic, Auto- Ordnance, Paintball Pistols, Paintball Accessories, WWII Helmets, Paintballs
Airsoft Guns
WWII Airsoft Guns, Classic Army, KSC, Maruzen, Western Arms , Airsoft Minis, Spring Guns, Olympic Arms, Chinese AEG's
Pellet Guns
.177 & 22 Calibers & Accessories
Action figures
Soldiers Story, DID Figures Dragon, GI Joe, Bluebox Toys, Sideshow Toys, Marx Toys, In the Past Toys
Tactical Gear
Ghillie Suits & Camo, CQB Solutions, Mil-Force, Hydrastorm, Hellstorm, Holsters, Goggles, Wiley-X Eyeware, Leapers
Swords & Knives
Fantasy & Military reproduction swords, daggers & knives
Rifle Parts & Mounts, Zos Rifle Scopes, Gun Cases, Scope Rings, Spotting Scopes
---
CLASSIC ARMY AIRSOFT GUNS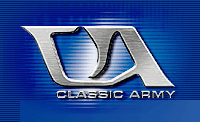 Classic Army Airsoft Fundamentals
Classic Army airsoft guns are electrically powered by internal removable rechargeable batteries.
These replica guns expel 6mm plastic round bb projectiles.
All Classic Army automatic electric guns have select fire capability for single fire or full auto at 700-800 rpm.
1:1 replicas in size and have functional controls similar to their real firearm counterparts.
Completely non-lethal.

Classic Army Airsoft Training Advantages
Because they are non-lethal and are unable to be converted into real firearms, only the most basic safety training is required.
Low cost for the guns and ammunition means more training more frequently.
Does not require a specialized training facility to use and can be used in a variety of environments with minimal or no damage.
A vast majority of existing tactical accessories and gear for the real firearms will work in conjunction with these replicas.
Similar weight and controls means continued and improved familiarity with the real firearm counterpart.

Classic Army Airsoft Recreational Use
Fun for target shooting or plinking.
Can participate in paintball style skirmishing or modern military reenactments with your friends.
Great for collecting.

Note:
Because of their realistic appearance, always treat these guns as if they are real firearms and always use eye protection.
Pictures
Description
Price

H&K G36C STYLE AIRSOFT RIFLE

Model Number
CA002P
Weight
2744.0g
Barrel Length
247mm
Barrel Caliber
6.08mm
Bullet Capacity
470
Bullet
6mm BB
Initial Bullet Speed
85-95 m/sec or 280.5 - 313.5 fps
Battery Type
Mini Type
Operation
-
Notes
Glass Fiber Body
Folding Stock
Metal Flash Hider
7mm Metal Bushing Gear Box
High Capacity Magazine (470rd)

$375

Model No.
MP002M
Product Name
MP5A3 (Tactical Lighted Forearm)
Weight
2764.0g
Barrel Length
229mm
Barrel Caliber
6.08mm
Bullet Capacity
200
Bullet
6mm BB
Initial Bullet Speed
85-95 m/sec or 280.5 - 313.5 fps
Battery Type
Mini Type (8.4V)
Operation

$355

Model No.
MP001M
Product Name
MP5A2 (Tactical Lighted Forearm)
Weight
2635.0g
Barrel Length
229mm
Barrel Caliber
6.08mm
Bullet Capacity
200
Bullet
6mm BB
Initial Bullet Speed
85-95 m/sec or 280.5 - 313.5 fps
Battery Type
Large Type (8.4V)
Operation

$355

M4 Carbine STYLE AIRSOFT RIFLE

| | |
| --- | --- |
| Model No. | AR001M |
| Product Name | M15A4 Carbine |
| Weight | 2737.0g |
| Barrel Length | 363mm |
| Barrel Caliber | 6.08mm |
| Bullet Capacity | 300 |
| Bullet | 6mm BB |
| Initial Bullet Speed | 85-95 m/sec or 280.5 - 313.5 fps |
| Battery Type | Mini Type (8.4V) or 12V 1500mAH |
| Operation | - |

$375

AR15A3 STYLE AIRSOFT RIFLE

| | |
| --- | --- |
| Model No. | AR003M |
| Product Name | M15A4 Rifle |
| Weight | 3143.0g |
| Barrel Length | 510mm |
| Barrel Caliber | 6.08mm |
| Bullet Capacity | 300 |
| Bullet | 6mm BB |
| Initial Bullet Speed | 85-95 m/sec or 280.5 - 313.5 fps |
| Battery Type | Large Type (8.4V) |
| Operation | - |

$385
H&K G3 STYLE AIRSOFT RIFLE

| | |
| --- | --- |
| Model No. | CA33E |
| Product Name | CA33E |
| Weight | |
| Barrel Length | |
| Barrel Caliber | 6.08mm |
| Bullet Capacity | |
| Bullet | 6mm BB |
| Initial Bullet Speed | |
| Battery Type | Large Type (8.4V) |
| Operation | - |

$385

| | |
| --- | --- |
| Model No. | S001M |
| Product Name | M24 Socom Sniper with fluted barrel |
| Weight | 3603.0g |
| Barrel Length | 515mm |
| Barrel Caliber | 6.08mm |
| Bullet Capacity | 25 |
| Bullet | 6.08mm BB |
| Initial Bullet Speed | 85-95 m/sec or 280.5 - 313.5 fps |
| Battery Type | - |
| Operation | Bolt Action |

COMING SOON

| | |
| --- | --- |
| Model No. | S002M |
| Product Name | M24 Socom Sniper With One Piece Barrel |
| Weight | 3690.0g |
| Barrel Length | 515mm |
| Barrel Caliber | 6.08mm |
| Bullet Capacity | 25 |
| Bullet | 6mm BB |
| Initial Bullet Speed | 85-95 m/sec or 280.5 - 313.5 fps |
| Battery Type | - |
| Operation | Bolt Action |

COMING SOON

| | |
| --- | --- |
| Model No. | AR007M |
| Product Name | M15A2 Rifle |
| Weight | 2919.0g |
| Barrel Length | 510mm |
| Barrel Caliber | 6.08mm |
| Bullet Capacity | 300 |
| Bullet | 6mm BB |
| Initial Bullet Speed | 85-95 m/sec or 280.5 - 313.5 fps |
| Battery Type | Large Type (8.4V) |
| Operation | - |

COMING SOON

| | |
| --- | --- |
| Model No. | AR004M |
| Product Name | M15A4 RIS (Rail Interface System) |
| Weight | 3100.0g |
| Barrel Length | 363mm |
| Barrel Caliber | 6.08mm |
| Bullet Capacity | 300 |
| Bullet | 6mm BB |
| Initial Bullet Speed | 85-95 m/sec or 280.5 - 313.5 fps |
| Battery Type | Mini Type (8.4V-10.8V) |
| Operation | - |

COMING SOON

| | |
| --- | --- |
| Model No. | AR005M |
| Product Name | M15A4 SPC (Special Purpose Carbine) |
| Weight | 3150.0g |
| Barrel Length | 363mm |
| Barrel Caliber | 6.08mm |
| Bullet Capacity | 300 |
| Bullet | 6mm BB |
| Initial Bullet Speed | 85-95 m/sec or 280.5 - 313.5 fps |
| Battery Type | Large Type (8.4V-10.8V) |
| Operation | ------ |

COMING SOON

Model No.
MP006M
Product Name
MP5 A3 (Wide Forearm)
Weight
2461.0g
Barrel Length
229mm
Barrel Caliber
6.08mm
Bullet Capacity
200
Bullet
6mm BB
Initial Bullet Speed
85-95 m/sec or 280.5 - 313.5 fps
Battery Type
Mini Type (8.4V)
Operation

COMING SOON

Model No.
MP005M
Product Name
MP5 A2 (Wide Forearm)
Weight
2506.0g
Barrel Length
229mm
Barrel Caliber
6.08mm
Bullet Capacity
200
Bullet
6mm BB
Initial Bullet Speed
85-95 m/sec or 280.5 - 313.5 fps
Battery Type
Large Type (8.4V)
Operation

COMING SOON